ModernPainRelief - Electronic Muscle Stimulator
ORDER RIGHT NOW AND GET 10% OFF AT CHECKOUT WITH CODE
"SAVE10"
---
Where is the pain that you're tired of living with: lower or upper back, shoulder, hamstring, quad, traps, neck, hips, arms etc...?
Looking to find stress relief from your day to day life, where do you store your tension, let us work it out.
Tired of seeing the chiropractor every week, skip the bill and let us release your muscle pain, tremors, and back pain?
THE MODERNPAINRELIEF MUSCLE STIMULATOR IS THE QUICK, EASY AND PAINLESS ANSWER TO YOUR PAIN!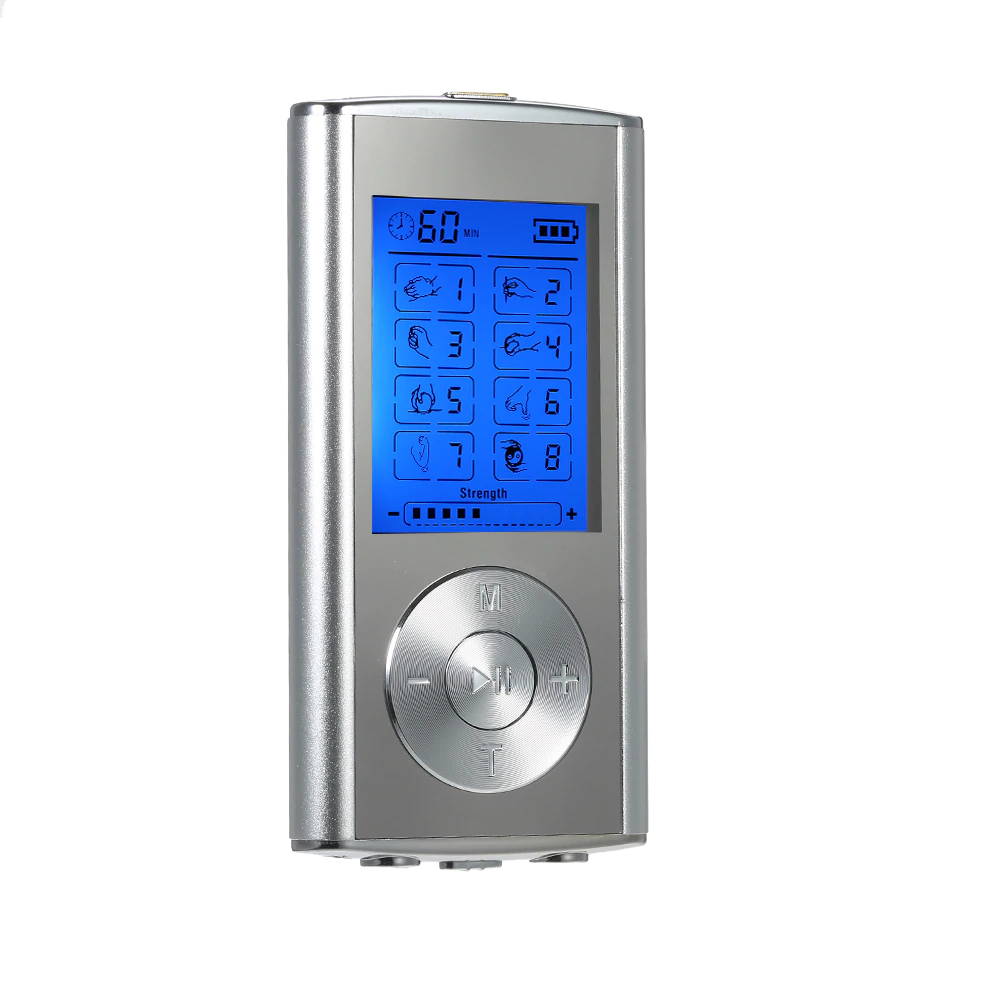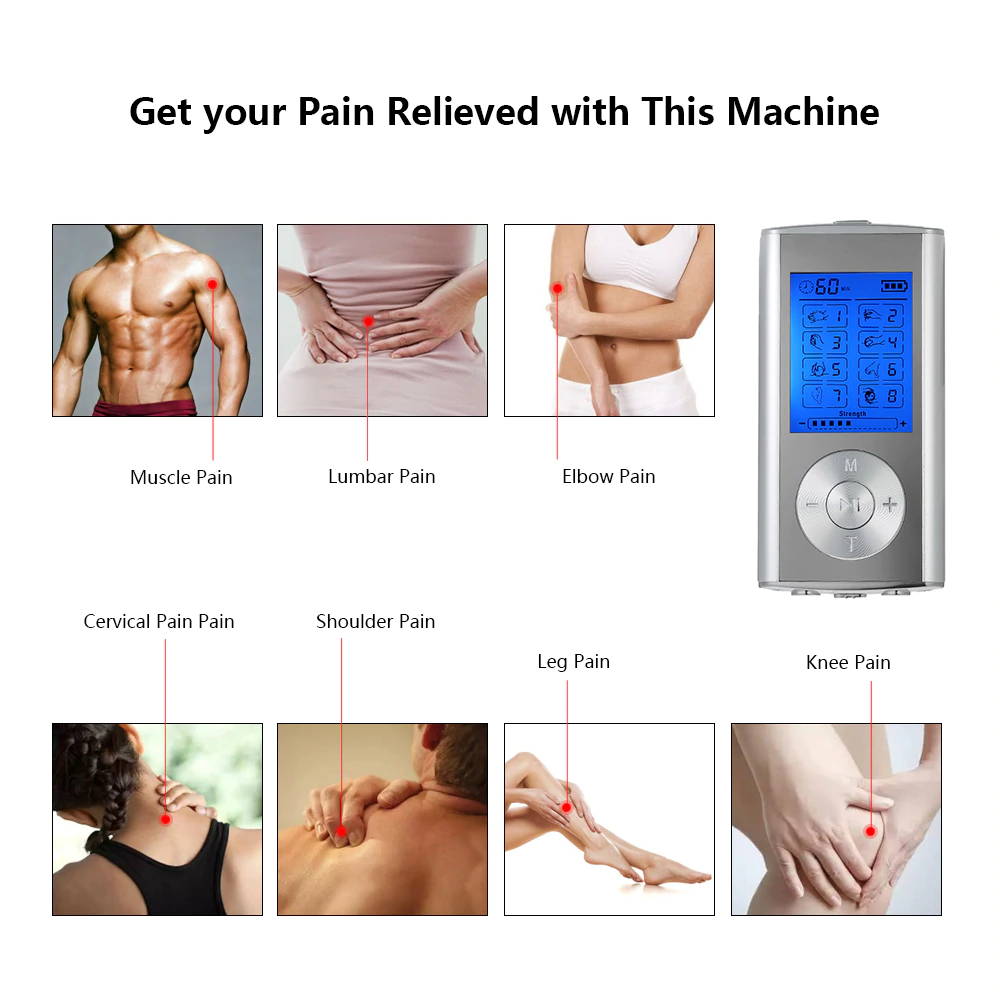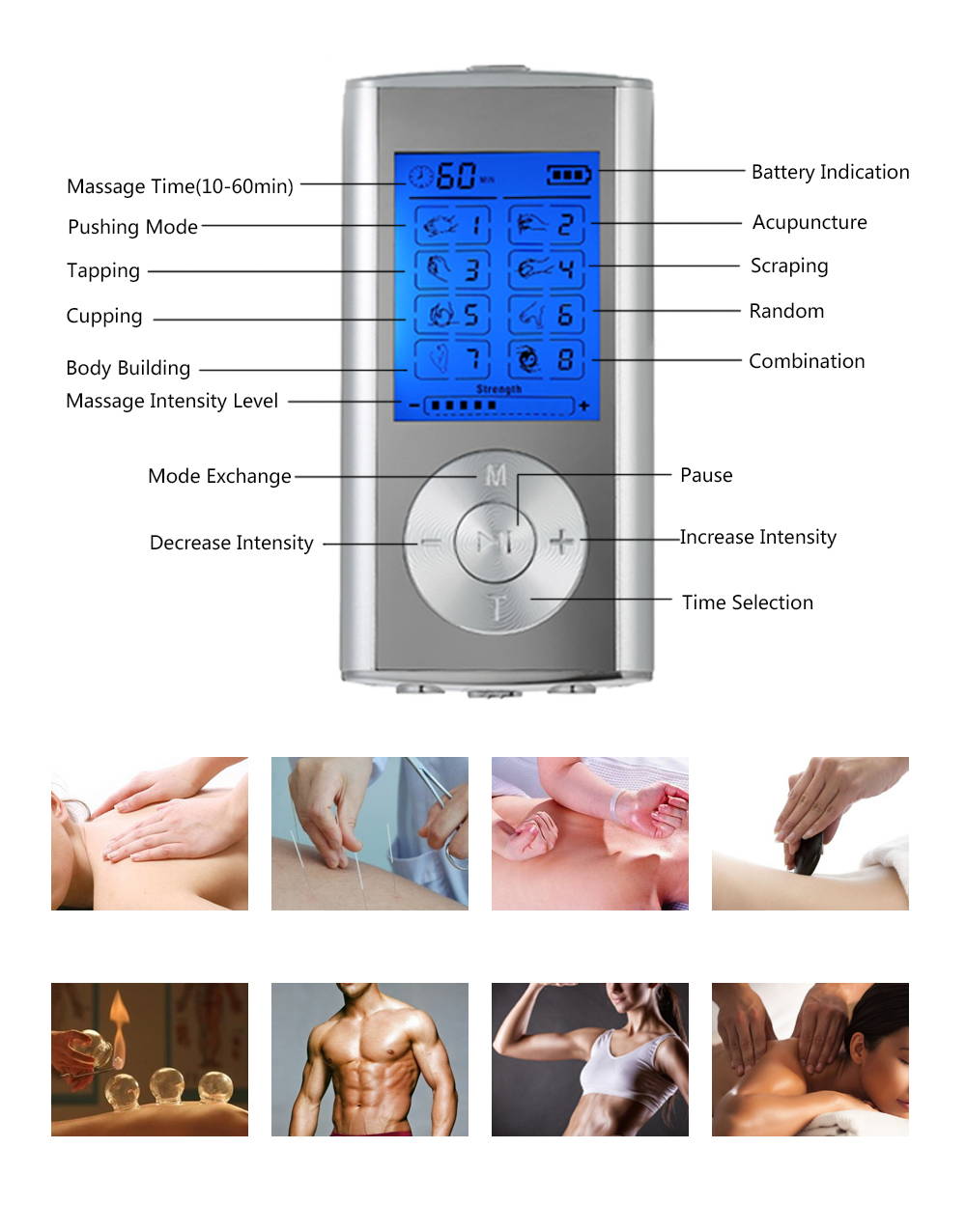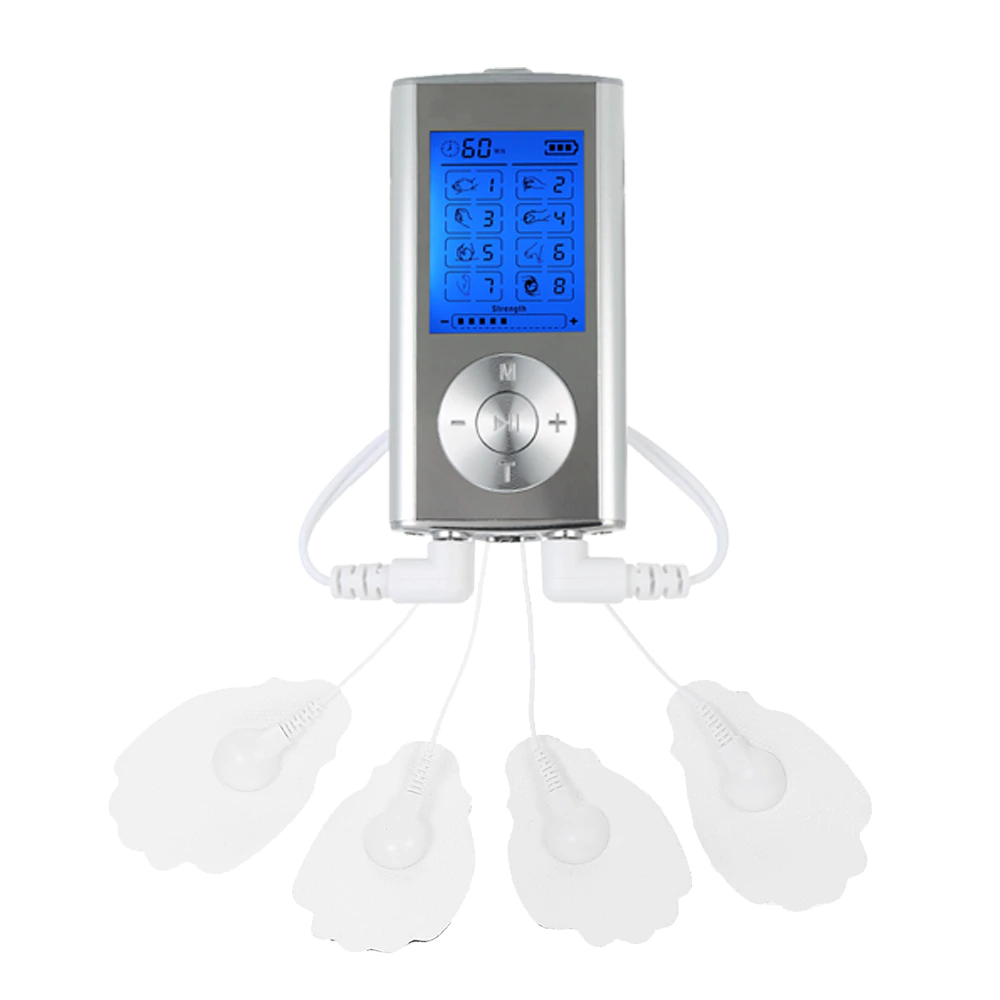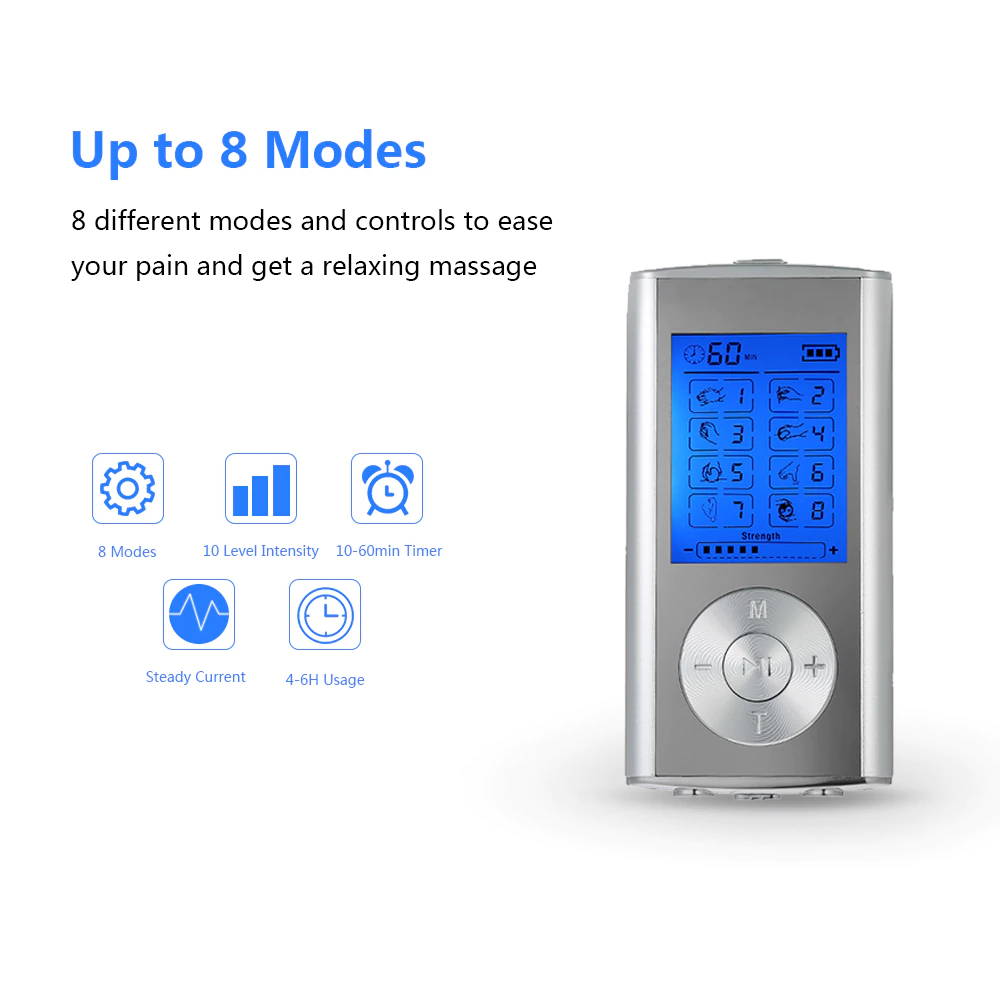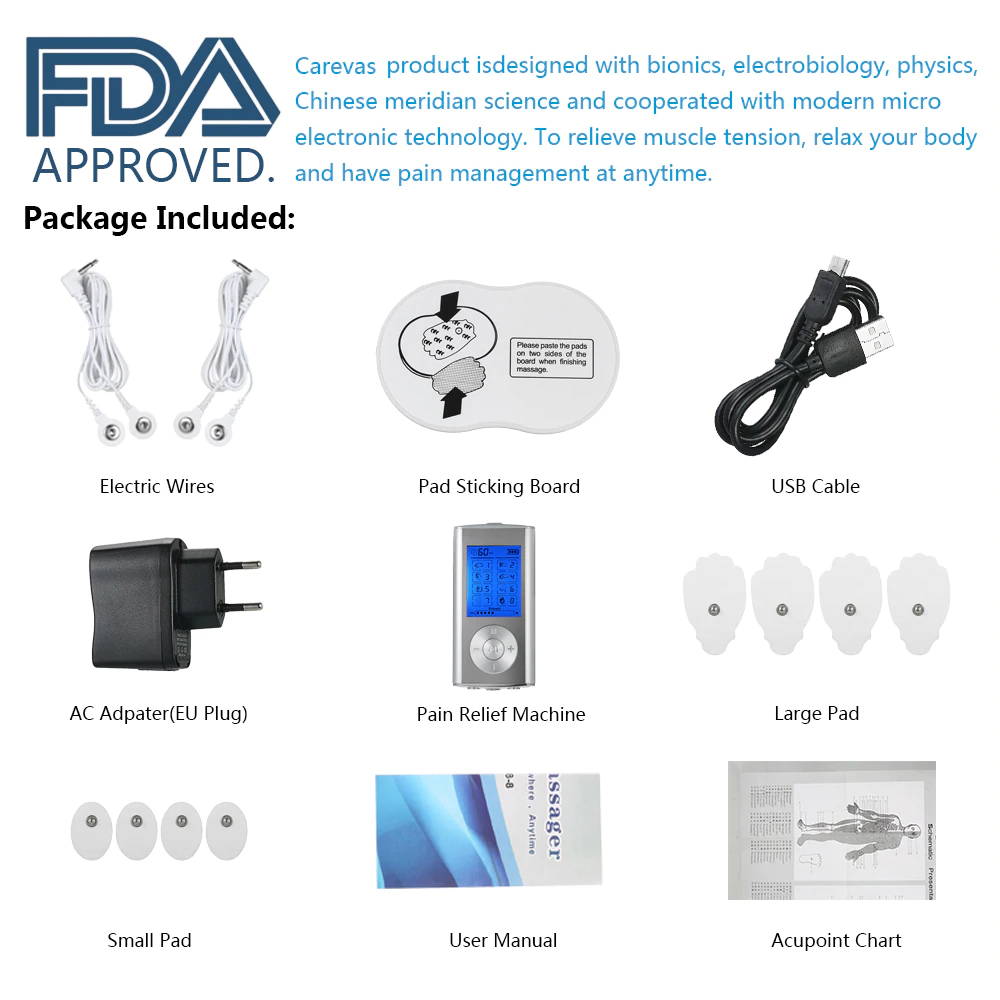 ---
Donna L. from Denver
Great value for the buck. Easy to use. Small screen though so for older people may be hard to read. Elbow pressure is not really elbow pressure but tapping...so a little misleading on that one, but all in all great value.
I CAN'T PRAISE THIS UNIT ENOUGH!
This item is a godsend! I have a grandchild who suffers with a slightly displaced hip that makes any movement an adventure in pain. Once the item was attached, not even 10 minutes passed before one could easily see a happy little toddler doing "happy toddler" things. I can't praise this unit enough!
EASILY USE AND THE BEST I'VE SEEN.
Verified Reviewer
This is the 3rd. I've owned. It's perfectly made, simple to use/ set-up, long life, and rechargeable too! Packed nicely, with 2 pair pads with cables to run 2 or 4 pads with separate cables for each pair. Or a 4 lead cable to run all pads on once . Also included is the USB charger and cable, a plastic paddle to store pads on when not in use. Instructions etc. I'm using it right now. Easy to fall asleep while using. It arrived the day before a flight and helped my back on the trip. A lot. Easy to select one of 8 settings. Easy to increase strength. Easily the best I've seen.
LOVE THE PRODUCTS FROM MODERNPAINRELIEF
This is my 2nd purchase of a tens unit from Modernpainrelief. My husband and I wanted to have 2 available to use. This one has 2 more settings than the first one I purchased, and I like that the screen lights up for a few seconds when adjusting the settings, very helpful at night. You can't use it while charging it like I can with my other unit and it doesn't hold a charge as long. Other than that, we really like it and would buy it again.
Received as a gift, because I wouldn't try it on my own. Took getting used to and once I did- I loved it and use it almost everyday as I am getting ready for work!
Verified Buyer
I purchased this unit for severe menstrual cramps (dysmenorrhea). I have to say I am very impressed. It works very well. My only problem with it is that the longest time setting is for 60 minutes. I wish it would stay on until I shut it off. Other than that, no complaints. The battery holds a good charge. The different modes and intensity settings give you a wide range of options. The price can't be beat. It is portable and convenient. It works very well for my god awful cramps and allows me to function like a normal person when I would otherwise be in my bed in the fetal position taking painkillers and clutching my heating pad. I love this device!
WORKS GREAT. ITS HELPED WITH ALOT OF ISSUES IVE HAD AND OTHE
I tried a friends a few weeks back and found relief for my chronic shoulder pain so I purchased this smaller unit for myself.My daughter used it and loved it for her lower back so I ended up purchasing 3 more units for my family. Great product and sized perfectly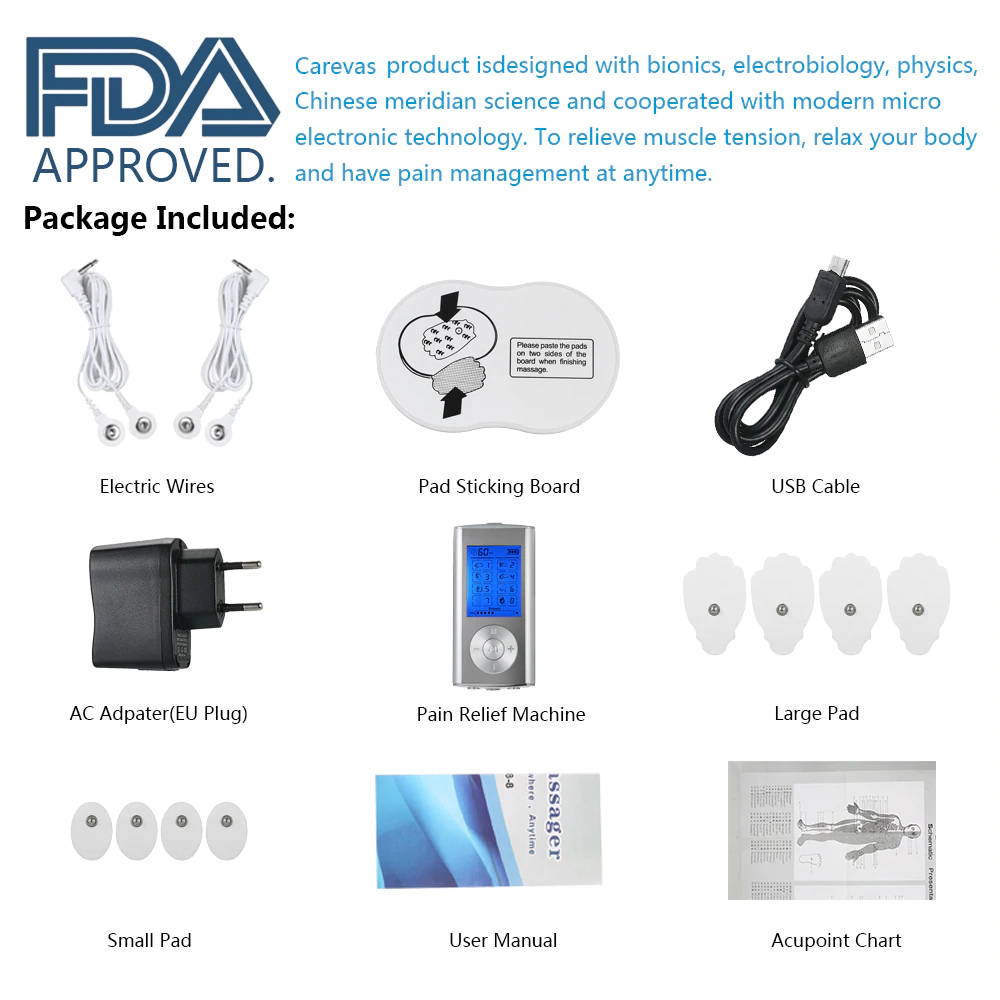 ---
Benefits Of Electronic Muscle Stimulation
When the pads are placed directly on the targeted area, through regular contraction of the muscle, micro-circulation can be accelerated, and promote the absorption of inflammatory substances.

Natural pain relief: EMS can stimulate the production of endorphins acting as a natural pain reliever in the body.

Natural antibody: Stimulates the production of antibodies, improve blood circulation, and reduces inflammation by circulating inflammatory substances out of the body.

Active Muscle Toning: Through electronic pulses like those produced by the brain to stimulate muscle tissue during intense exercise, deliver a vigorous work-out to improve muscle tone and performance.

Stress and Anxiety Relief: offers pre-programmed modes designed to simulate a soothing massage at the muscle-tissue level, promoting stress and anxiety relief and general relaxation.
TENS (Transcutaneous Electrical Nerve Stimulator) is a safe non-invasive and drug-free method of pain management. TENS devices relieve pain by sending little electrical impulses through electrodes placed on the skin to underlying receivers in nerve fibers.
PMS (Powered Muscle Stimulator) is the initiation of muscle contraction using electric stimulation. The impulses are generated by a device and delivered through electrodes on the skin in direct proximity to the muscles to be stimulated.
COMMON USES
Pain relief from muscle pain, injured back, slipped disk, herniated disk

Pain management from old injuries, stiffness, or soreness

Stimulation of muscles to aid recovery due to injury or lack of use

Relief from tennis elbow, or other repetitive motion injuries
WHAT IS ELECTRICAL MUSCLE STIMULATION OR EMS?
Electrical Muscle Stimulation (abbreviated EMS) is the use of electrical impulses to cause muscle contractions. Also known as electromyostimulation or neuromuscular electrical stimulation (NMES), it is a tool used by physical therapist as well as athletes to relieve pain or to strengthen muscles with a electrical charge. During EMS the electric charge is sent by electrodes that are attached to the surface of the skin.
WHAT DOES ELECTRICAL MUSCLE STIMULATION DO?
EMS or electric muscle stimulation causes a real muscle contraction as electrical impulses are sent to the body. This contraction is the same as one caused by a patient or user. In effect, it mimics the contraction of your muscles by your central nervous system. It can strengthen and tone muscles that are not in use, or able to be used due to injury.
WHAT IS A MUSCLE STIMULATOR?
An electric muscle stimulator is a device that sends electrical impulses to the body during EMS. There are many different types of muscle stimulators from basic units that can be used at home to more complex units used for intense work outs and physical therapy. Some units have multiple channels, sensitivity settings and advanced technology in order to improve the units performance.
WHAT DOES AN ELECTRICAL MUSCLE STIMULATOR DO?
The muscle stimulator creates the electrical charge to cause the muscle contraction inside the body. Most devices send a specific charge that can be adjusted in intensity and length (time the charge lasts) through electrodes that are applied to the body. The electrodes can be applied anywhere. Only muscles near the electrodes will contract. Users apply the electrodes to the body part they want to work.
WHAT ARE THE SIDE EFFECTS OF ELECTRICAL MUSCLE STIMULATION?
There are few side effects of EMS or NMES. These include skin irritations at the site of the electrode application, headaches and other irritations or painful sensations can also occur if the unit is applied near the head and neck. Painful muscles may occur if the units are used on afflicted joints or atrophied muscles, or muscles with other types of common issues like spasms. Excessive use may also cause pain in the surrounding muscles and joints.
I HAVE A PACEMAKER, IS THIS SAFE FOR USE?
No, unfortunately, the unit is not recommended to be used by those with a pacemaker. If you have a heart condition but are not wearing a heart pacemaker, then it is safe for you to use it.
HOW TO USE AN ELECTRIC MUSCLE STIMULATOR
The muscle stimulator should be used in a constructive and planned therapy or workout routine. This ensures the best possible results. Using the device during a structured pain relief routine with targeted goals and milestones typically yields the best results.
WHERE TO PLACE MUSCLE STIMULATOR PADS?
Electronic muscle stimulator or NMES pads should be set on the skin over the area you are going to target. For instance if you are targeting your quads, place the EMS electrodes on the quads muscles directly on the skin. To target biceps, place the electrodes on the bicep muscle. It is also important to use the right sized pad for your muscle size.
WHAT ARE MUSCLE STIMULATORS USED FOR?
The EMS or NMES devise can be used to relieve muscle pain or weakness, enhance athletic training, body building, and for rehabilitation or recovery. It can be used to work muscles harder and longer than an individual can normally work them, simply because of fatigue and mental wear. The units may also be used to prevent muscle atrophy in individuals who have had immobilized limbs or limited movement of a limb.
HOW LONG SHOULD YOU USE ELECTRICAL MUSCLE STIMULATION?
The EMS unit should not used excessively. Each individual has their own limitations for how long a contraction can occur.
DUE TO HIGH DEMAND PLEASE ALLOW 12 -20 DAYS FOR PROCESSING AND SHIPPING!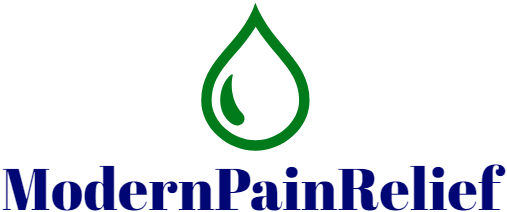 Contact Us:
Email: mymodernideas@gmail.com
Phone or Text: 586-248-5120
OUR GUARANTEE
We have some of the best products available hands down, but so that you feel as comfortable as we do, we are going to back it up with a risk-free ironclad 45-day guarantee.
If you don't have a good experience for ANY reason whatsoever, we will do WHATEVER needed to make sure you are 100% happy with your purchase.
Buying items online can be a scary task, so we want you to realize that there is absolutely NO risk in buying something and trying it out. If you don't like it, no hard feelings we'll make it right because it's the ModernPainRelief way.