Posture Brace back
Perfect Posture Back Brace

---
Perfectly aligns neck, back, and shoulders to improve your posture instantly.
Hides easily under clothes for easy use anytime.
Made from flexible next generation material for super comfort and support.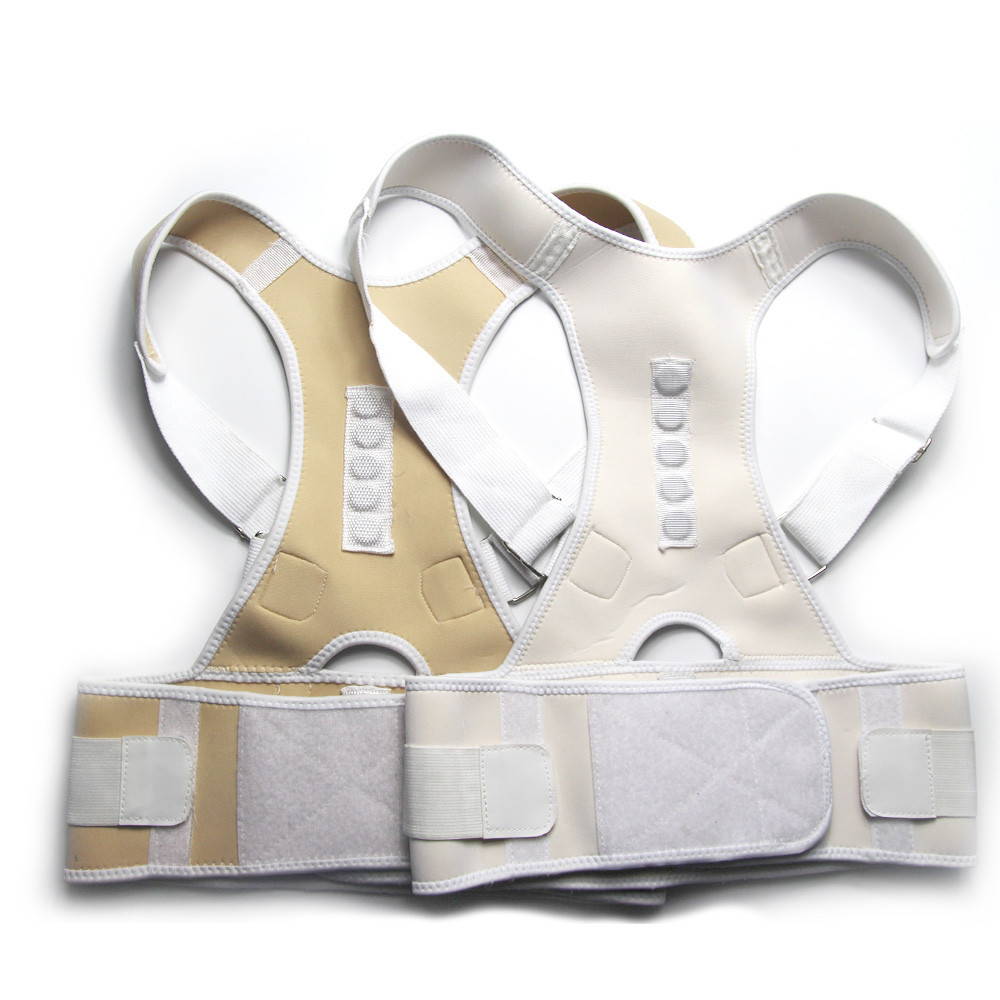 Do You Suffer From Back Pain Due to Poor Posture?
Are you embarrassed by your poor posture?
Are you suffering from headaches, neck, back or shoulder pain?
Posture Brace Shoulder Support
Does this sound like you? Then here's a quick and simple solution. Our Magnetic Posture Brace - Back Straightener comfortably wraps around your torso, fixing your posture almost instantly.
Our soft, thin, elastic neoprene material allows for a comfortable to wear, and entirely invisible support band easily fits under your clothing! So no one needs to know you're wearing it.
Simply place your arms through each loop and secure it around your waist, then tighten the straps until it fits firmly in place. Feel it start to repossession your shoulders and back, while straightening and aligning your neck and spine into a more natural position. Now you can walk around with your chest up and be free from pain!
Q: Will this cause weakness in my back muscles?
A: Never, our posture back brace isn't made out of stiff materials that cause your posture to be locked in place like a steel vest taking weight off the supporting muscles. Our magnetic brace aids in keeping your skeleton in the correct position while your muscles maintain the correct posture. Strengthening them and activating muscle memory that keeps your posture straight and properly aligned.
Q: Will this pinch my arms/shoulders?
A: No, as long as you are wearing the posture brace correctly. If you feel pinching either it is too tight or you are slouching your shoulders. Ease off the straps to your comfort level and get those shoulders back!  
Q: What size is right for me?
A: Our product is designed with a sizing system above. With elastic stretchable material and straps, it can be adjusted further for body type, male or female.
Q: Can women wear this too?
A: Absolutely! It's designed to fit both male and female physiques.
Q: How long can I wear it?
A: Initially your body will not be used to it's new posture, so give it time. Take it off as soon as it becomes uncomfortable; take a break and then put it on again. We don't recommend wearing it to sleep. Most of our clients achieve great success using it just 2-4 hours at a time.
Q: Can I wear it under my shirt?
A: Yes! Our posture brace is designed to be sleek so that it fits easily under shirts or clothing, that way you can be wearing it in public without others noticing. 
USA ORDERS GET 4-7 DAY SHIPPING!!!
FREE SHIPPING WORLD WIDE!!!
While orders outside the USA typically take 14 to 21 days to arrive from our manufacturing facility. 
OUR GUARANTEE
We have some of the best products available hands down, but so that you feel as comfortable as we do, we are going to back it up with a risk-free ironclad 45-day guarantee.
If you don't have a good experience for ANY reason whatsoever, we will do WHATEVER needed to make sure you are 100% happy with your purchase.
Buying items online can be a scary task, so we want you to realize that there is absolutely NO risk in buying something and trying it out. If you don't like it, no hard feelings we'll make it right because it's the Perfect Posture Back Brace way.
Contact Us:
Email: mymodernideas@gmail.com
Phone or Text: 586-248-5120